All the Numbers to Measure a Runner
Whether you're training for your first marathon or looking to crush a personal record, Forerunner 630 provides all the extensive data you need for training and racing. Check your form by pairing your 630 with the HRM-Run™ monitor to measure cadence, vertical oscillation and ground contact time¹. Additional running dynamics include ground contact time balance, stride length and vertical ratio.
The Proof of Your Potential
Forerunner 630 uses extended physiological metrics to help you get the most out of your workouts and feel confident with what you can accomplish when you toe the line. Once Forerunner 630 learns your lactate threshold through a guided test, you can apply it to your heart rate training when setting up zones. Overall training load, sleep, nutrition and general life stress play a role in how you will perform in a tough workout. To give you a better idea of what days you should aim for a tough workout or use as a recovery day, Forerunner 630 provides you with a stress score based off your heart rate. Performance condition is another feature that gives you an idea of how you will fare in a workout. As you run, this feature analyzes your pace, heart rate and heart rate variability to make a real-time assessment of your ability to perform.
When planning a strategy for your next race, Forerunner 630 measures your VO2 max and can predict your race times for several distances, providing you with a time target. It also lets you know when to back off your training after a grueling workout or race with its built-in recovery advisor.
Customize Your Watch and Your Training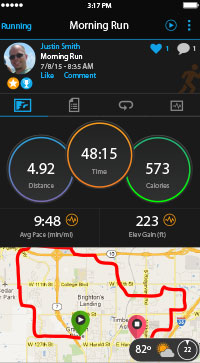 No two runners are the same, and neither are their goals. Set yourself up to reach yours by downloading advanced workouts and training plans to your watch from Garmin Connect. You can even customize your data fields, and download watch faces, widgets and applications all for free at Connect IQ.
It's Simple. Period.
Concise, easy-to-understand charts, graphs, maps and more let you view your activities, track progress toward goals and wirelessly upload and share relevant data directly with the online Garmin Connect network. So, you can compete with friends or family members on weekly step or running challenges — and compare your results in real time, using the LiveTrack feature. You can also use the app's wireless connectivity links to receive current weather conditions, forecasts and smart notifications right on your compatible Garmin device.
The HRM-Run heart rate monitor provides the most advanced running metrics to high-end Garmin Forerunner® running watches. The strap is seamlessly comfortable and easily adjustable while the module is small, lightweight and fits entirely within the width strap.
HRM-Run™
HRM-Run provides 6 running dynamics metrics:
Cadence — number of steps per minute
Vertical oscillation — degree of 'bounce' in your running motion; displays the vertical motion of your torso, measured in centimeters for each step
Ground contact time — amount of time in each step that you spend on the ground while running; measured in milliseconds
Ground contact time balance — displays the left/right balance of your ground contact time while running (displays a percentage); for example, 53.2 with an arrow pointing left or right
Stride length — length of your stride from 1 footfall to the next; measured in meters
Vertical ratio — ratio of vertical oscillation to stride length (displays a percentage); a lower number typically indicates better running form
This real-time data can help athletes take their performance to the next level by showing them where they can improve their running form.
Wear Your Personality on Your Sleeve
Download the free Garmin Face It™ watch face app to customize your device with any photo from your smartphone. Just download the app, choose an image from your photo library, adjust the style for time and set it as your watch's face. Whether it's a scenic view from your last hike or a picture of your new puppy, with Garmin you can add personality to your watch that's uniquely you.